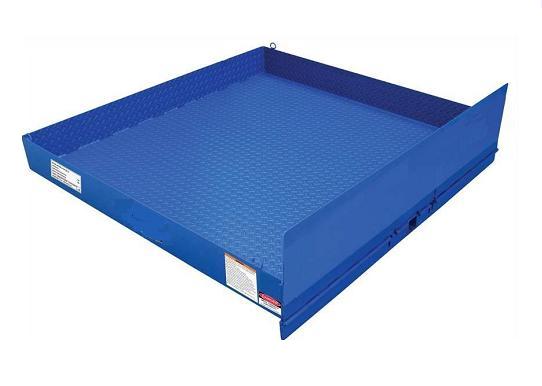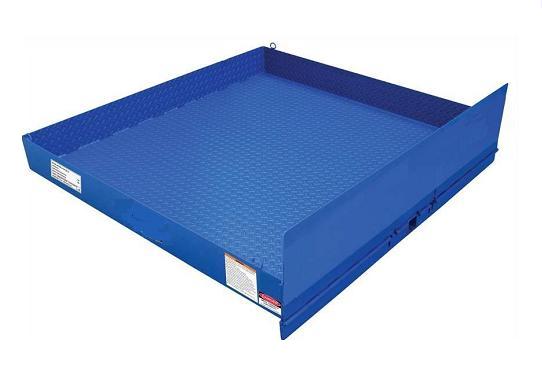 Type: FLR909 Container Ramp
Type FLR909 Fork-mountable Loading Ramp to move Standard design features include: fork pockets that receive the tines (forks) of a fork lift; loading ramp; toeboards; textured floor plate for improved tractions;
and a safety chain to secure the work platform to the fork carriage to prevent the platform from sliding off of the forks if the lift operator accidentally tilts the mast forward during use. Optional features include: mast guard; guard rails; and entryway-spanning chains.
Dimensions and other product specifications appear in the following table:
Model

 Size

Width x Length

Inches (~cm)

Fork Pocket Size Width x Height

Inches (~cm)

Capacity

 pounds (kg)

Net weight

pounds (~kg)

FLR909

54 x 54

 (137 x 137)cm

7½ x 2½

(19 x 6.4)cm

2,000

(909kg)

300

(136kg)
Quick Details
---
Place of Origin: Fujian, China (Mainland)
Brand Name: HUAMAI
Model Number: CRN909
Product Name:FLR909 shipping container forklift ramp for sale
Type:CRN909
Size(Width x Length): (137 x 137)cm
Unit Weight (kg): 300 (136kg)
Fork Pocket Size Width x Height: (19 x 6.4)cm
Net weight: 136kg
---
The perfect answer for loading and unloading freight from shipping containers.
Shipping Container RampsThe Bluff Shipping Container Ramp is used to load and unload cargo from shipping containers with a forklift. It allows you to safely navigate the transition from ground to the bed of the shipping container.
Rugged
Efficient
Safe
Economical
OSHA 1910.3 Compliant
Bluff Container Ramps are built tough to withstand heavy use. They are built to last.
Shipping Container RampsThese Shipping Container Ramps feature a full width stiffener to provide strength and to bump up against the container. Locking chains with a specially designed keeper allow you to easily lock it into the holes in the container. After the keepers are in place, taking up the slack in the chain is simple and quick with the sturdy grab notch bracket welded to the sides of the Container Ramp. The result is a safe, sturdy loading ramp locked firmly to the shipping container. You can now load and unload your container safely – AND QUICKLY!
Standard shipping Container Ramps are available in 15K, 20K, 25K, and 30K capacities. Other sizes available.
Manufactured and tested in compliance with ANSI Standard MH30.2.