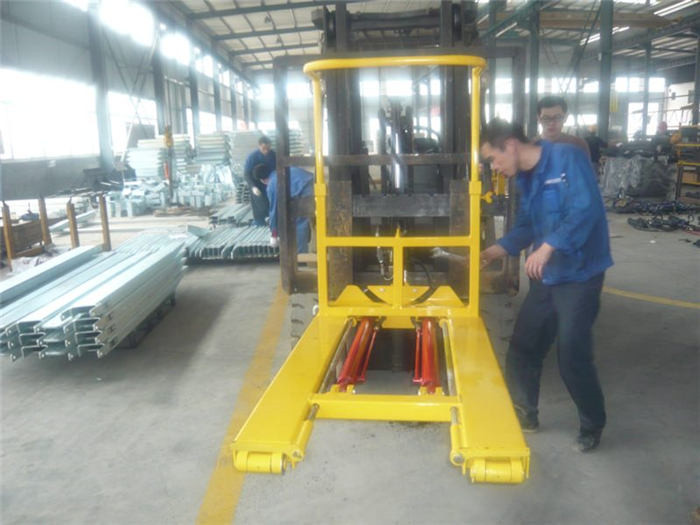 Forklift Attachment Bin Tipper
Forklift Attachment Bin Tipper for handling and emptying bins in agricultural and manufacturing industries. A purpose built hydraulic sequencing valve eliminates the potential to drop the bin as rotation will not commence until the bin is secured into position, while the gentle action of the clamp force prevents damage to the bins.
Forklift Attachment Bin Tipper Tipper features:
1. Hydraulic circuit control system.
2. The maximum size of forklift arm is 130*60*1400mm
3. The maximum loading capacity is 1000kg
4. Size of a standard box is: length 1200*width(750~1300)*height(650~1100)mm (its width and height are variable)
5. Surface treatment: Baking varnish finished
Forklift Attachment Bin Tipper Specifications:
• Safe Working Load: 1000 kg
• Unit Weight: 200 kg
• Fork Pocket Size: 135 mm x 65 mm
• Package size: 1700 x 900 x 890mm
Method of application: Insert the forklift arm into the 2/3 position of the fork extension.Connect the oil pipe to the hydraulic circuit control system by tools,and insert the locating pin for fixed, then the whole system works.
Videos
---
Quick Details
---
Place of Origin: Fujian, China (Mainland)
Brand Name: HUAMAI
Material: Q345
Function: handling and emptying bins
Application: Forklift
Surface treatment:Galvanized or Enamel paint finish
Model number: Hydrulic forklift bin tipper
---