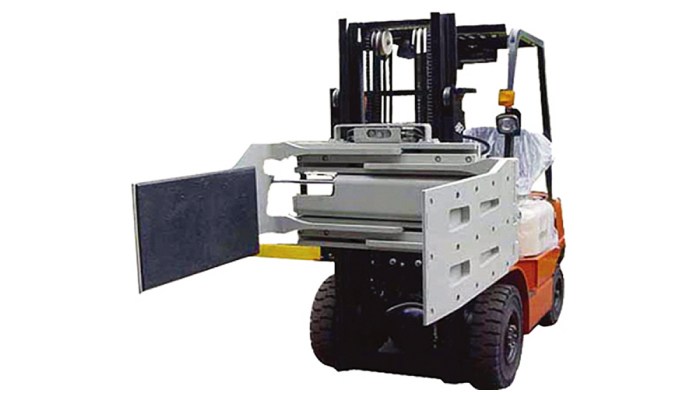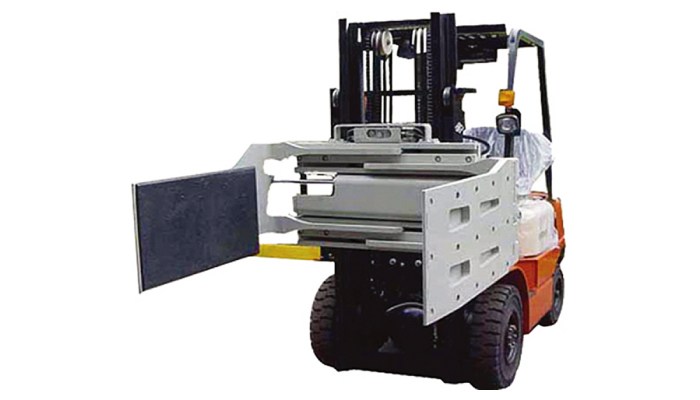 Product Description
---
1. Applications
Drum handling equipment can make the forklift carry two or four oil drums at the same time, to ensure that it is safe and reliable clamping in the process of transportation, significantly improve handing efficiency. Widely used in bulk cargo handing and pilling work, such as oil, petrochemical,food and other industries.
2.Features
Proven, durable T-beam arm and aluminum frame construction
Superior arm-slide bearing for extended service life
Regenerative hydraulic valving for optional arm speed
Excellent driver visibility
Rubber pads on the clamp arms can be replaced conveniently,it is economic and practical
HUAMAI brand is first class in China, which technology is from America.
3.Options and Accessories:
Various mounting classes available
Custom opening ranges
Heightening and large clamp arm
Left and right clip arm independent movement type
4.Specification
Load Center

Catalog

Order No.

Mounting

Class

Opening

Range

O

(mm)

Frame

Width

C

(mm)

Overall

Height

D

(mm)

Hook

Spread

E

(mm)

Vertical

Center of Gravity

CGV

(mm)

Weight

(kg)

Effective

Thickness

ET

(mm)

Horizontal

Center of

Gravity

CGH

(mm)

2 Drum Sideshift
[email protected]
DTS15D-001A
II
395-1545
940
645
890
210
285
145
100
[email protected]
DTS15D-002A
II
485-1600
865
620
760
210
270
140
107
[email protected]
DTS20D-003A
II
520-1750
940
620
760
220
295
145
104
2 Drum Rotating
[email protected]
DTR20D-004A
II
520-1750
940
755
815
410
522
241
140
4 Drum Sideshift
[email protected]
DFS15D-005A
III
335-1480
940
645
890
220
385
147
290
[email protected]
DFS15D-006A
II
420-1550
865
620
760
210
370
142
312
[email protected]
DFS20D-007A
III
460-1690
940
645
890
220
395
147
295
4 Drum Rotating
[email protected]
dfr20d-008a
III
460-1690
940
775
815
335
613
239
277
Our Advantages
---
Why choose us as reliable supplier or work as local dealer with us?
1.Experienced technical team, more professional service
HUAMAI is made up of a team of members who have years of experience with European forklift trucks and its attachments.
2. Wide product range, custom design, provide total solution
HUAMAI has grown rapidly into a sizeable company specialized in producing a comprehensive range of hydraulic and mechanical attachments. The major categories of hydraulic attachments include rotating type, sliding arm type, side-shifting/hinged type, special purpose type and others.
3. Priority support, if agency/dealer
If you a local dealer, can achieve HUAMAI agent policy support, including fast delivery time, competitive price and accessories support, ect.
4. Own factory, competitive price
Our factory covers an area of 10,000 square meters, fully equipped with modern manufacturing equipments and facilities. Scale production and no middlemen will save the purchasing cost.
5. Sales record and voice from our customer,which prove our good performance
Quick Details
---
Place of Origin: Fujian, China (Mainland)
Brand Name: HUAMAI
Model Number: Hydraulic Drum Handling Equipment
Capacity: 1400kg/1900kg
Movement: Open/Clamp/Sideshift/Rotating
Mounting Class: II/III
Opening Range: 335-1750mm
Weight: 270-613kg
Color: White or as requested
Key Parts: World Class
Surface Treatment: Painted Finish
Warranty: 12 Months
Forklift Requirements: 2 Sets Additional Oil Circuits
---