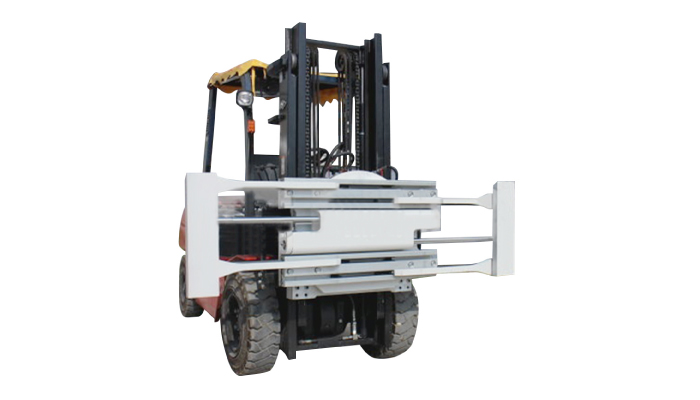 No-arm clamps are a type of forklift attachment that are used for handling and transporting heavy loads. These clamps attach to the forklift and allow for the safe and efficient handling of loads that are too heavy or awkward to be handled with a standard forklift. No-arm clamps are commonly used for handling paper rolls, coils, and other cylindrical loads.
No-arm clamps work by clamping onto the load with hydraulic arms. The hydraulic system is controlled by the operator, who can adjust the clamping pressure to ensure that the load is securely held in place. Once the load is clamped, the forklift can transport it to its desired location.
One of the main advantages of no-arm clamps is that they allow for the handling of loads without the need for pallets or other packaging materials. This not only saves time and money, but also reduces waste and the need for additional handling equipment.
No-arm clamps are also versatile, as they can be adjusted to handle different sizes and weights of loads. They can also be easily attached and detached from the forklift, making them convenient for use in different material handling scenarios.
In conclusion, no-arm clamps are a useful forklift attachment for handling heavy and awkward loads. They are versatile, efficient, and cost-effective, and are an essential tool for companies that handle large and heavy loads on a regular basis.
Specifications
---
No-Arm Clamps
Users can make special clamp arm according to your special needs.
Suitable for industry with special requirement
No-Arm Clamps
Functions&Applications
No-arm clamp is a kind of clamping device that isn't equipped with clamp arm , only have the clamp arm base. Users can make special clamp arm according to your special needs, just welding it on no-arm clamp then can be used. Suitable for industry with special requirements for handling and stacking operation.
Features
---
*Proven durable T-beam arm aluminium frame construction
*Superior arm-slide bearing for extended service life.
*Regen erative hydraulic valving for optimal arm speed
*Excellent driver visibility.
Options
---
*Various mounting classes available
*Custom opening ranges
Mounting Class: Please contact with us for item selection and directions!
Videos
---
Name
Capacity@Load Center
Item No.
Mounting Class
Opening Range
(mm)
Weight
(kg)
Arm Pad Sizse
(mm)
No Arm Clamp
Sideshifting
1600@600
CNS20D-002A
II
410-1660
232
130x565x40
2300@600
CNS30D-003A
II
465-1810
320
130x625x45
2300@600
CNS30D-003B
III
465-1810
338
130x625x45
Revolving
1600@600
CNR20D-004A
II
410-1655
454
127x565x40
2300@600
CNR30D-005A
II
465-1810
536
125x625x45
2300@600
CNR30D-005B
III
465-1810
554
125x65x45
Quick Details
---
Place of Origin: Fujian, China (Mainland)
Brand Name: HUAMAI
Model Number: CNS
Material: Steel and Casting
Mounting Class: 2A/3A
Certificate: ISO9001:2000