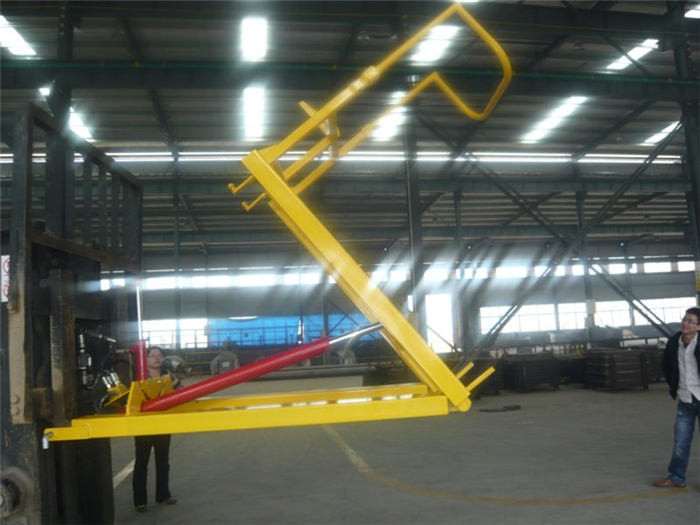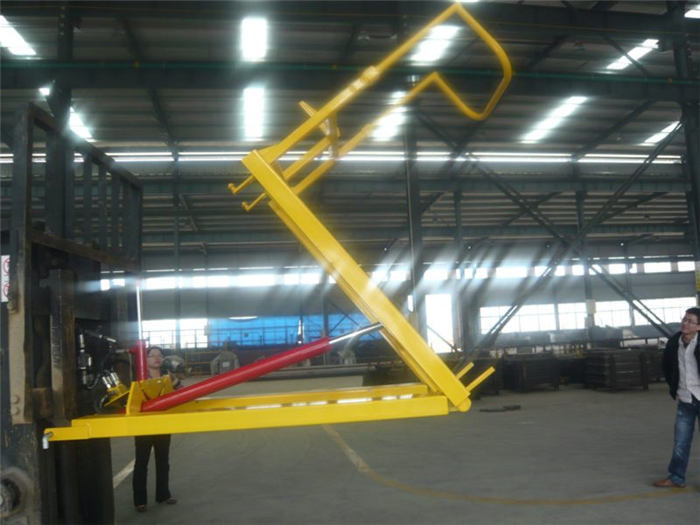 Usage:
---
Insert the forklift fork into the 2/3 position of the fork extension. Connect the oil pipe to the hydraulic circuit control system by tools, and insert the locating pin for fixed, then the whole system works.lts operation principle is as follows: insert the tipping bin under the bottom of the boxes until reach the extreme end, with the help of the hydraulic system, the second cylinder uplifts the box to a certain angle and drive the link mechanism which can prevent the box from dropping to the ground. Meanwhile the main cylinder works to push it to an angle of 142 degree and dump all the stuff out of the box. The two main cylinders will also work excellently to replace the box to its original position
1. The max size of forklift fork arm is 130x60x1400mm
2. The maximum loading capacity is l000.0Kg
3. Size ofa standard box is length 1200 x width(750~1300) x height (650~1100)mm (its width and height are variable)
Videos
---
Type NWB-T1 Wheelie Bin Tipper
The type NWB-T1 Wheelie Bin Tipper has been designed for emptying a standard 240 litre plastic bin. The Bin is wheeled into the cradle and secured by the Safety Chain attached to the Backrest allowing the bin to be lifted/transported about the workplace and emptied. The tipping operation is simple and safe with the operator never having to leave his seat.
Standard finish on all Wheelie Bin Tippers is painted enamel.
SPECIFICATIONS:
---
• Safe Working Load (SWL) 500kg
• Load Centre 1200mm
• Unit Weight 100kg
• Pocket Size 165 x 65
• Pocket Centres 340mm
• Capable of 180° Rotation
• Horizontal C of G 720mm
• Vertical C of G 90mm
Quick Details
---
Place of Origin: Fujian, China (Mainland)
Brand Name: HUAMAI
Model Number: NWB-T1
Product Name: Type NWB-T1 Wheelie Bin Tipper
Type:NWB-T1
Safe working load: 500kg
Load Centre:1200mm
Unit weight: 100kg
Pocket Size: 165 x 65
Pocket Centres: 340mm
Capable:180° Rotation
Horizontal C:G 720mm
Vertical C: G 90mm
---