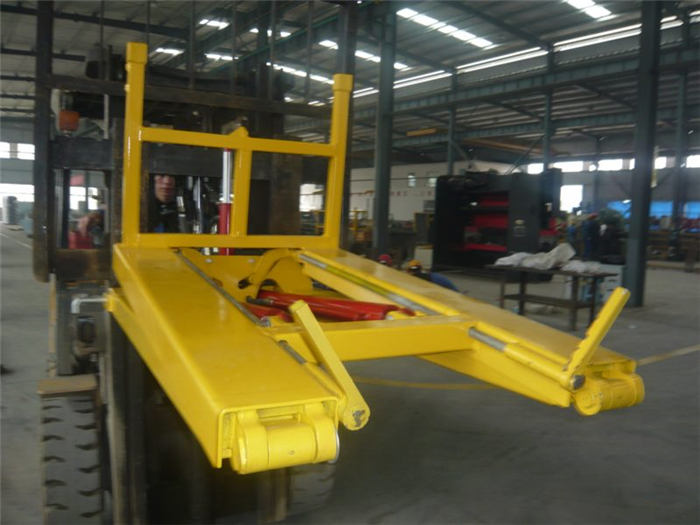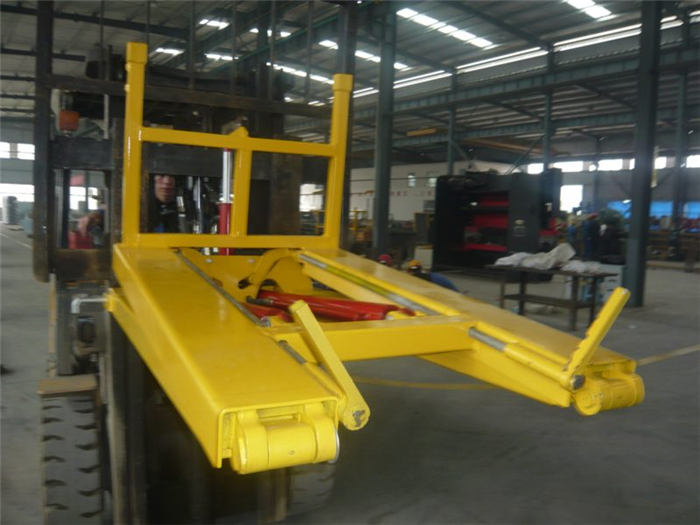 Product Specifications
---
As the name implies, a bin tipper is an appliance for tipping boxes. Once a fork-lift truck hauls boxes to the assigned area, it works to dump stuff contained in the boxes, such as fruit and sundries, etc. The product also includes a good viewport; thus makes it convenient, safe and reliable to use and saving human resources.
Its working conditions include
---
1,Hydraulic circuit control system.
2,The maximum size of forklift is 130x60x1400mm
3,The maximum loading capacity is 1000Kg
4,Size of a standard box is: length 1200 x width(750~1300) x height (650~1100)(its width and height are variable).
Usage
---
first, select a fork-lift truck with a hydraulic circuit control system; and insert it to the 2/3 position of the fork extension. Use a device to connect an oil pipe to the hydraulic circuit control system. Then insert and fix the fork and the whole system works. Its operation principle is as follows: put the tipping bin under the bottom of the boxes until the end of the appliance has reached the bottom. Then under the working of the hydraulic system, the second cylinder uplifts the box to a certain angle while link mechanism prevents the box from dropping to the ground. Meanwhile the main cylinder works to push it to an angle of 142 degree and dump all the stuff out of the box. The two main cylinders will also works excellently to replace the box to its original position.
Videos
---
Quick Details
---
Place of Origin: Fujian, China (Mainland)
Brand Name: HUAMAI
Model Number: bin tipper
Product Name: Bin Tipper
Mounting Class: 2~4
Maximum Size: 130x60x1400mm
Maximum Loading Capacity: 1000Kg
Standard Box Length: 1200mm
Standard Box Width: 750~1300mm
Standard Box Height: 650~1100mm
MOQ: 1SET
---