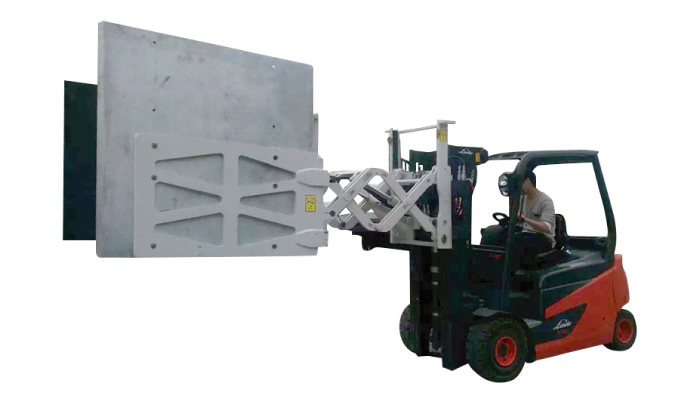 Product Description
---
1.2ton forklift attachment Non-Side Shifting Carton Clamps (G09B12)
Specifications
Used in palletless handling of home applications, consumer electronics, packaged foods, chemical and plastics
Carton Clamps
Applications:
---
Used in palletless handling of home applications, consumer electronics, packaged foods, chemical and plastics
Features:
---
Rugged all-steel construction, meet the requirements for continuous operation with high efficiency.
E-Style-Slot frame provides excellent stability and longer operating life.
Multiple rubber pads mounting in both clamps arms, easily replacement, reduce maintenance cost.
Reasonable design with dependable world top quality hydraulic components.
Product Series:
Non-Sideshifting
Sideshifting
Note:
---
Two additional hydraulic circuits required on truck for Sideshifting models, one additional on truck for Non-Sideshifting models
All carton clamps are equipped with 4-position pressure relief valve.
All products as listed are standard models, custom products can be provided according to detailed requirements.
Accessories:
---
Keeping the truck system relief pressure, the 4-position pressure relief valve could also pre-set three pressure selections to meet the customer's requirement for clamping different load.
Of course, you can just contact us with your product requirements, we will present model meet your demands. Thanks for your view.
Model
   Capacity/
Load Center
 Opening
Range
D
Effective
Thickness
C
Horizontal
Center
of Gravity
CGH
Weight
Vertical
Center
of Gravity
CGV
  Arm
Length
L
Arm
Height
A
 Frame
Width
B
Mounting
Class
( kg/mm)
(mm)
(mm)
(mm)
(kg)
(mm)
(mm)
(mm)
(mm)
G09B12-200A26
1200/500
550-2000
184
420
660
300
1000
1200
1140
2
G09B11-200A46
1100/600
425
675
1200
G09B10-200A66
1000/700
430
605
1400
G09B16-200A46
1600/600
550-2000
187
430
725
300
1200
1200
1140
2
G09B15-200A66
1500/700
460
790
1400
G09B14-200A86
1400/800
475
815
1600
G09B15-200A49
1500/600
430
810
305
1200
1500
Basic Info
---
Model NO.: G09B12
Usage: Heavy Duty Clamp
Standard: Standard
Brand: Hytger
Capacity/: 1200/500mm
Effective: 184mm
Weight: 660mm
Transport Package: Seaworthy Packing
Origin: Fujian, China
Material: Metal
Structure: G Clamp
Condition: New
Name: 1.2ton Forklift Attachment Non-Side Shifting Cart
Opening: 550-2000
Horizontal: 420mm
Trademark: HUAMAI
Specification: CE, SGS, ISO
HS Code: 84312090
---
2ton Forklift Attachment Arm Clamps
,
Carton Clamp Attachment
,
Carton Clamp Pads
,
Fork Clamps Forklift
,
Fork Lift Truck Clamps