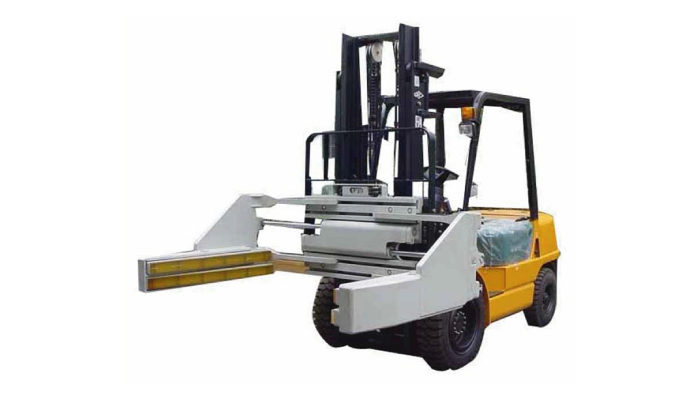 Product Description
---
Forklift attachments
1. Proven and well designed arms and T-shape arm bars ensure smooth moving and good durability.
2. Special designed check valve provide sideshifting without the third cylinder.
3. Low profile frame for good visibility over the clamp.
4. Superior slide bearing promises extended service life.
5. High quality PU/Nylon contact pads to ensure reliable clamping.
6. Regenerative hydraulic valve for optimal arm speed.
7. 2 pieces of truck auxiliary valves are necessary. 140bar≤ Working Pressure ≤ 180bar.
8. Fitting Screw M18X1.5-74° (concave); Recommended Hydraulic Pipe internal diameter = 10mm.
9. Option: Rotating; Sideshifting;
Specifications
Forklift clamp
Forklift attachment
Block clamps
Applications:
Used in palletless handling for tough loads, such as blocks, cement bricks.
Features:
---
Rugged all-steel construction, meet the requirements for continuous operation with high efficiency.
Using soft & durable polyurethane pads, easy to replace.
Reasonable design with dependable world top quality hydraulic components.
Note:
---
Two additional hydraulic circuits required on truck.
All products as listed are standard models, custom products can be provided according to the detailed requirements.
Of course, you can just contact us with your product requirements, we will present model meet your demands. Thanks for your view.
Model
Capacity/
Load
Center
Opening
Kange
Effective Thickness
Horizontal
Center
of
Gracity
Weight
Arm Length
Frame Width
Mounting
Class
D
  C
CGH
L
B
 KG/MM
MM
 MM
MM
KG
MM
MM
G25B20-166A21
2000/500
210-1660
135
335
610
1000
1140
2
G25B20-166B21
3
G25B20-166A41
340
640
1200
1140
2
G25B20-166B41
3
G25B25-166B21
2500/500
240-1660
140
330
710
1000
1140
3
G25B25-166B41
335
750
1200
3
G25B30-166B21
3000/500
340-1660
145
310
740
1000
1140
3
G25B30-166C21
4
G25B20-166B41
800
1200
3
G25B30-166C41
4
G25B30-166B61
860
1400
3
G25B30-166C61
4
Videos
---
Bar Arm Clamps For Forklift
,
Block & Brick Clamp
,
Brick And Block Clamps
,
Fork Lift Truck Clamps