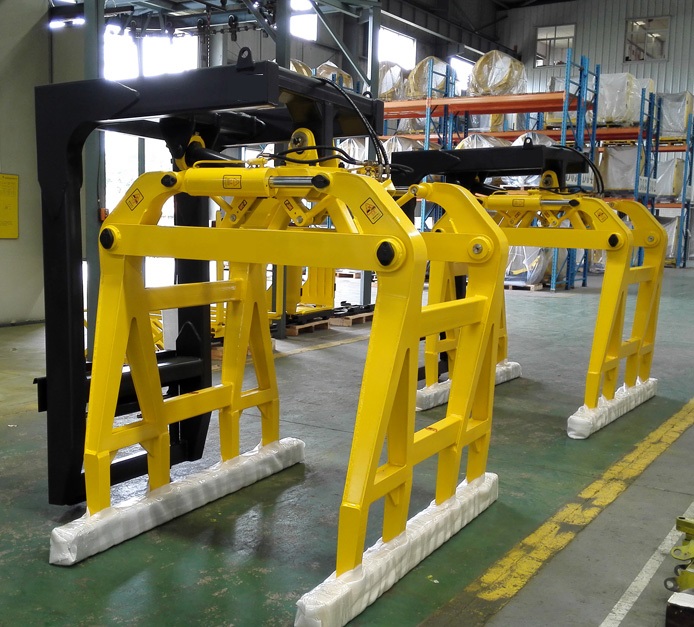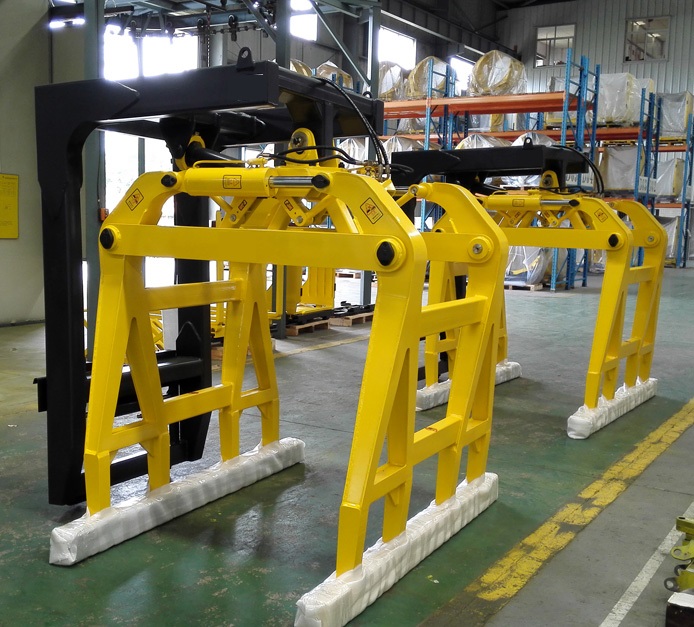 Features
---
1.Structure with complete steel and high strength meets special requirements.
2.Structural designation makes field of vision widely for operator.
3.Used removable type article wear-resisting, after wearing is easy to replace economic and practical.
4.Can be rotated and field to make effective if needed.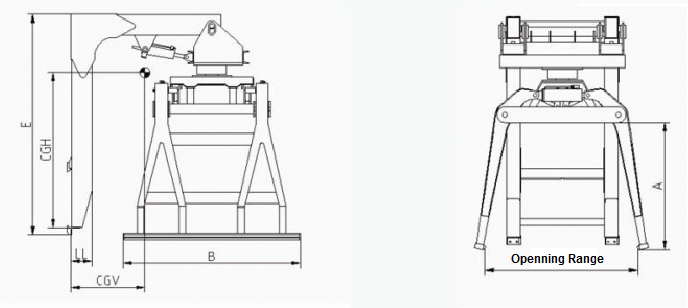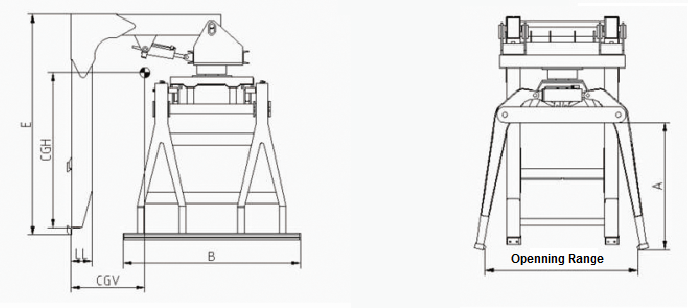 Specification
---
Capacity Range

(kg)

 Model

Holding Width

(mm)

 Lifting Height

(mm)

Tilting Angle

Rotating Angle

Telescopic Length

(mm)

 5000-8000

 BTC-GX

 Min

240x4=960

Max

240x6=1140

 5600

 6-12°

 90-120°

 400-800
Videos
---
---
Obtain the actual capacity of the forklift and attachments from the forklift manufacturer.
Holding width refers to the length of the standard bricks for 200-240mm, 4-6 bricks, the width of the size need to be measured and confirmed.
Please contact the sales from HUAMAI
Application
Bell type block clamps can complete function of hoisting, tilting, rotation, scaling, clamp, excellent comprehensive performance.
Skilled application of hydraulic technology, with hydraulic components protection, can fully meet the needs of the working condition of brick industry.
Quick Details
---
Place of Origin: Fujian, China (Mainland)
Brand Name: HUAMAI
Model Number: BTC-GX
Product Name: Bell type block clamps
Model: BTC-GX
Lifting Height (mm): 5600mm
Tilting Angle: 6-12°
Rotating Angle: 90-120°
Telescopic Length (mm): 400-800mm
Capacity Range (kg): 5000-8000
---
Block clamp
Applications
1.Concrete block clamp can efficiently handle various types of solid, regular cubic goods under normal temperature.
2.Widely used in construction material, metallurgy industries for handling concrete blocks, cement bricks, carton cubes, etc.
3.The high structural strength and durability ensura the safe, productive application and long service life.
Features
1.The item doesn't need to be put on pallet to be transported. If need be, they can be put on a pallet and after than they can be handled by a traditional forklift too.
2.Proven durable T-beam arm aluminium frame construction.
3.Superior arm-slide bearing for extended service life.
4.Regenerative hydraulic valving for optimal arm speed.
5.Durable contact pads, reliable clamping.
6.Excellent driver visibility.
Advantages
HUAMAI is your best choice by the following reasons:
1.Professional & Experienced: We have more than 10 years experience in this field. Our professional technical team who come from world leading companies have been concentrating on provide the high quality products for you.
2.Heavy duty attachments: HUAMAI can provide a series of heavy duty attachments which the capacity load are more than 6 tons, while other factories can not reached.
3.Competitive price: After years of development, we are able to provide the excellent quality products with a competitive price based on a large number of outstanding suppliers that we have accumulated.
4.Total solution: Our sales are willing to visit your company and help you increase efficiency and create value by provide a total solution, such as practical advices and customized products.
Block & Brick Clamp
,
Block Lifting Clamp
,
Brick And Block Clamps
,
Concrete Block Clamps