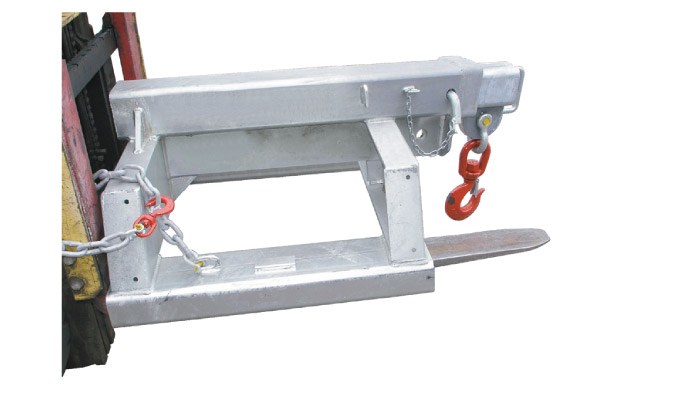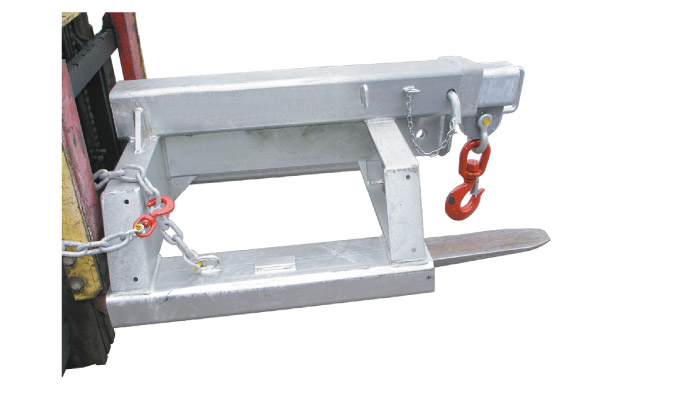 Type SFJL7.5 Fixed Jib (Long)
The type SFJL7.5 Fixed Jib (Long) is designed as an affordable general purpose Jib with a 3.56 metre reach when fully extended. This Jib has been designed with wide pockets suitable for Forklifts with special hydraulic Tine Positioners. This slip-on Forklift attachment is held to the Forklift by a safety chain. The Jibs overall length when closed is 2.19 metres.
Supplied with safety swivel Hook and Shackle.
SPECIFICATIONS:
· Safe Working Load (SWL) 7500kg Max.
· Unit Weight 450kg
· Load Centre 920mm
· Pocket Size 180 x 80
· Pocket Centres 875 mm
· Horizontal C of G 1200mm
· Vertical C of G 100mm
· Zinc Finish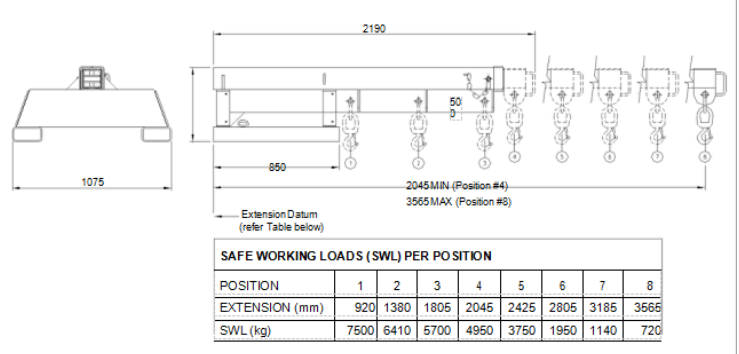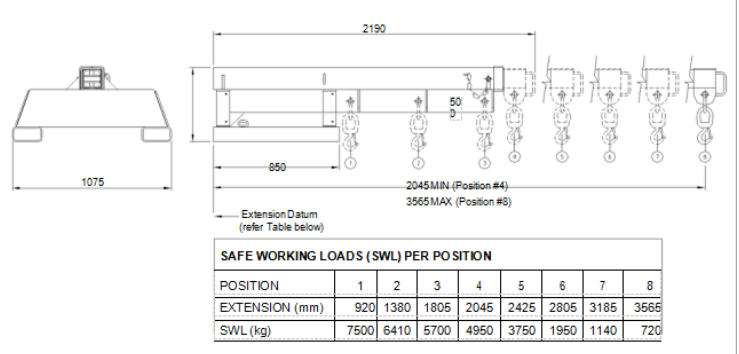 Quick Details
Place of Origin: Fujian, China (Mainland)
Brand Name: HUAMAI
Model Number:SFJL7.5
Product Name: SFJL7.5 Long fixed jib
Type: SFJL7.5
Unit Weight: 450kg
Safe Working Load (SWL): 7500kg Max.
Load Centre: 920mm
Pocket Size: 180 x 80mm
Horizontal C of G: 1200mm
Vertical C of G: 100mm
---
Description
Product Name: Forklift Tow Jib Attachment
Part No: NS-FJ-TOW
At last a multi-purpose forklift jib for towing and lifting! The NS-FJ-TOW Forklift Tow Jib Attachment is a dual purpose, lightweight and simple to use forklift attachment which allows towing with the attached 50mm towball, and doubles as a 2000kg WLL lifting jib complete with 2T safety swivel hook. Includes two lifting hook positions and utilises two fork locking pins to secure the jib to the forks during operation. Fully certified to all relevant Australian standards.
The type NS-FJ-TOW Forklift Tow Jib Attachment has been designed as a simple Slip-on Jib attachment with 2 hook positions 585mm apart and a 50 Tow Ball fitted at the front of the Jib. Both hook positions have a WLL of 2000kg – refer diagram below. When using the Tow Bar, the Tow weight
is not to exceed 500kg and the minimum capacity of the Forklift is to be 2 Tonne.
The Unit is supplied with 2 Fork Arm Retaining Toggle Pins to prevent the Jib from moving off the Fork Arm.
The Standard Finish on the Type NS-FJ-TOW Forklift Tow Jib Attachment is Zinc Plated.
NOTE: Only suitable for 1070mm forklift tynes
Note that the towing of trailers by a forklift fitted with a tow jib can impose overturning forces on the forklift and additional force on the mast and braking system. The load being towed must be no greater than 25% of the mass of the forklift. Towing should be carried out in a slow, smooth and controlled manner and on level ground. Sharp turning must be avoided at all time to prevent jack-knifing of the trailer.
Specifications:
Working Load Limit kg 2000kg
Maximum Towing Capacity 500kg
Unit Weight (Kg) 45kg
Load Centre (mm) 1160mm
Pocket Size (mm) 140mm x 65mm
Pocket Centres (mm) 250mm
Horizontal Centre of Gravity (mm) 655mm
Vertical Centre of Gravity (mm) 30mm
Class 3 Fork Positioner