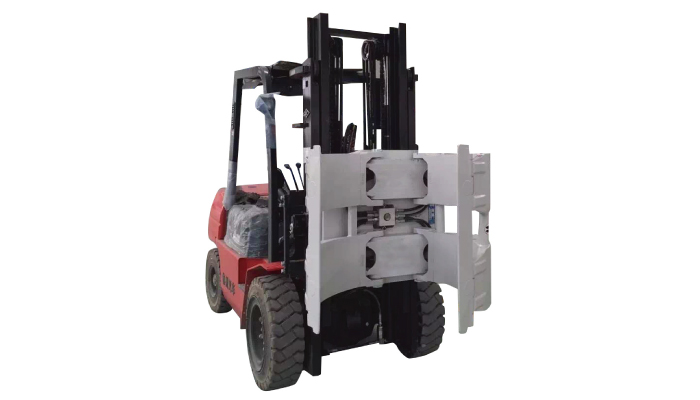 Features
---
1. Hydraulic systems: the main control valve in the load to maintain valve adopts imported products; seals are imported products; high-pressure hose with cone seal, high-performance hose.
2. Structural parts: the left and right plates with Q460 high-performance steel plates, and pressure by the overall shape and the correction is made; channel while using the imported product.
3. Mechanical performance: Built-in lateral feature, you can also achieve clamping / opening and lateral function and good vision; additional oil line can meet the requirements of the two groups.
Advantages
---
1. Rational designed, compact structure, excellent driver visibility, easy operating, improve work efficiency.
2. Thin arm prolife and smooth arm contour eases roll break out and permits close stacking.
3. Contact pads with integral casting structure, abrasion resistance, long service life. Contact pads surface reasonable, provide the best clamping friction.
4 .Hydraulic retention of cylinder valves is to ensure reliable clamping of long distance transportation.
5. Continuous 360° rotation, any angle position of lock function, revolving positing 90° or 180°
Videos
---

Quick Details
---
Place of Origin: Fujian, China (Mainland)
Brand Name: HUAMAI
Model Number: RCP20F-001A
Product Name: Paper roll clamp
Type: RCP20F-001A
Mounting Class: II-IIII
Long Arm Length A(mm): 825mm
Short Arm Length B(mm): 570mm
Weight (kg): 677KG
Effective Thickness (mm): 197mm
Horizontal Center of Gravity (mm): 287mm
Roll Range (mm): 250-1300MM
Capacity (kg): 2000KG
---
72 Paper Roll Clamp