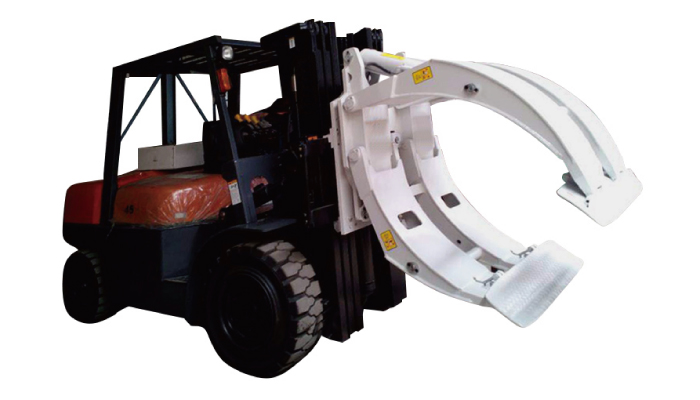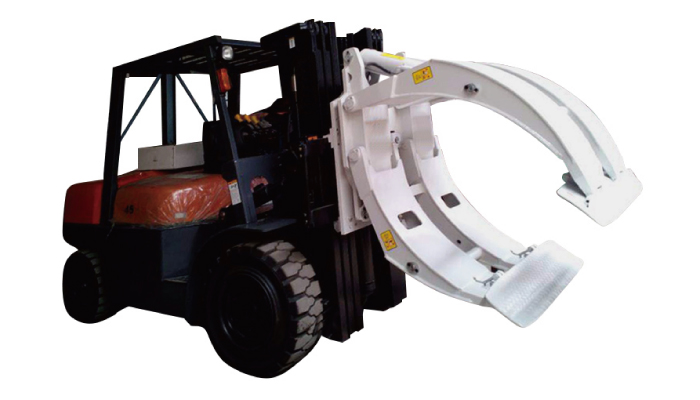 Product Description
forklift attachments 360 Rotation Single Arm Paper Roll Clamps
Function
---
360 degree paper roll clamps are applied to transporting and stacking all kinds of paper
roll effectively and safelyin paper making, printing, packing industry, etc.
Features:
v Rational designed, compact structure, excellent driver visibility, easy operating, improve work efficiency.
v Thin arm profile and smooth arm contour eases roll break out and permits close stacking.
v Contact pads with integral casting structure, abrasion resistance, and long service life. Contact pads surface reasonable, provide the best clamping friction.
v Hydraulic retention of cylinder valves is to ensure reliable clamping of long distance transportation.
v 5Continuous 360° rotation, any angle position of lock function, revolving positing 90° or 180°.
v 6Rated capacity is around 3.0~4.5 tons, and we can also provide the customized products base on your specific requirement.
Specifications
---
Capacity (kg)
Roll Range
(mm)
Model
Mounting Class
Mounting
Angle
Long
Arm Length
A  (mm)
Short
Arm Length    B (mm)
Long Arm Thickness (mm)
Weight    (kg)
Effective Thicknes  ET (mm)
Horizontal Center of Gravity   HCG      (mm)
2000
250-1300
RCP20F-001A
II
0°
 825
570
45
677
197
287
2000
250-1300
RCP20F-001B
III
0°
 825
570
45
690
237
325
2000
630-1300
RCF20F-002A
II
0°
825
570
45
667
197
282
2000
630-1300
RCF20F-002B
III
0°
825
570
45
681
237
320
2000
250-1500
RCP20F-003A
II
0°
955
775
95
751
197
283
2000
250-1500
RCP20F-003B
III
0°
955
775
95
765
237
307
2000
530-1500
RCF20P-004A
II
0°
955
775
95
744
197
280
2000
530-1500
RCF20F-004B
III
0°
955
775
95
758
237
304
2000
630-1600
RCF20F-005A/B
II/III
0°
955
775
95
755
183/216
301
2000
350-1600
RCP20F-006A/B
II/III
0°
955
775
95
765
183/216
304
1700
680-1830
RCF20F-007B
III
0°
1130
930
115
880
239
445
1700
380-1830
RCP20F-008B
III
0°
1130
930
115
886
239
445
2700
330-1350
RCP30F-009B
III
0°
850
570
45
759
198
272
2700
530-1350
RCF30F-012B
III
0°
850
570
45
752
198
272
2700
250-1520
RCP30F-011B
III
0°
955
685
50
830
198
307
2700
560-1520
RCF30F-010B
III
0°
955
685
50
823
198
307
 2000
250-1300
RCS20D-001A
 II
0°
825
560
45
717
197
269
 2000
250-1300
RCS20D-001B
 III
0°
825
560
45
731
237
307
 2700
250-1300
 RCS30D-002A
 II
0°
845
570
70
854
203
307
 2700
250-1300
 RCS30D-002B
 III
0°
845
570
70
858
198
307
Videos
---
Basic Info
---
Application: Forklift Truck
Condition: New
Mounting Class: II III IV
Long Arm Length: 825-1305mm
Key Parts: World Class
Transport Package: Export Packing
Type: Paper Roll Clamp
Certification: ISO9001: 2000
Capacity: 1700-4500kg
Roll Range: 250-1830mm
Short Arm Length: 560-915mm
Trademark: HUAMMAI
Origin: Fujian China
---
72 Paper Roll Clamp
,
Fork Lift Truck Clamps