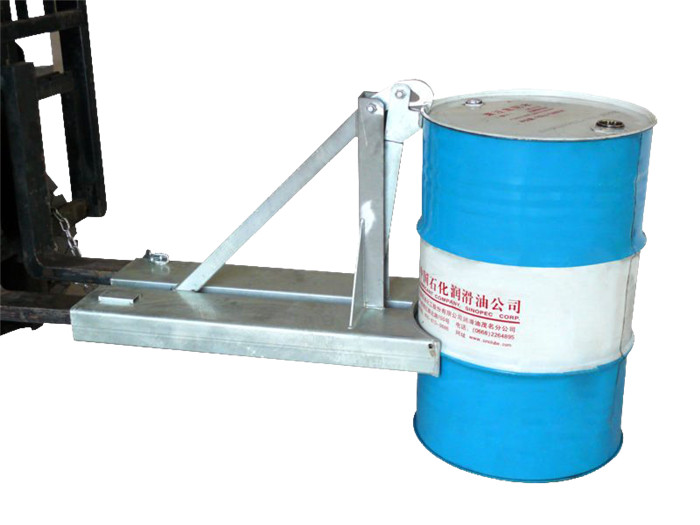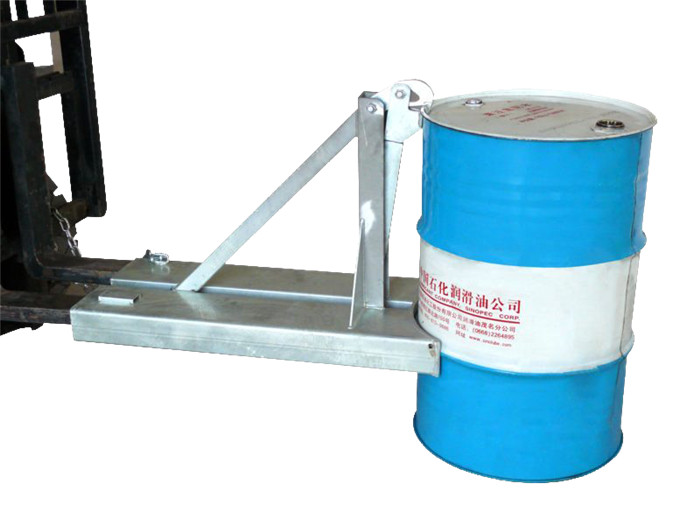 Application
---
Drum handling made easy. A good field of vision allows the operator to continually observe the drum being handled. The operator does not leave the drivers seat. The unique Grab Beak design provides a high clamping force, even when travelling over uneven ground. With few moving parts this attachment requires no down time for repairs. These Lifters are suitable for standard 205 litre steel or plastic drums.
The type BGN-1 has been designed to lift a single drum while the type BGN-2 has been designed to lift 2 drums side by side or a single drum by either Grab Beak mechanism. A contoured rest acts at a point low enough down the drum to prevent damage to the drum and its labelling.
Options
---
Used with forklift to move or stack oil drums with high efficiency,saving storing space.
Superior clamping capability
Suitable for 200L standard drums
Surface treatment: painted or gavanized finish
Specification
---
Type

No.of Drums

Capacity

(kg)

Fork Pocket Size(mm)

Fork Distance (mm)

Load Centre(mm)

Unit Weight(kg)

BGN1

1

1000

180*60

250

1210

68

BGN2

2

1500

180-60

600

1250

96
Drawing
---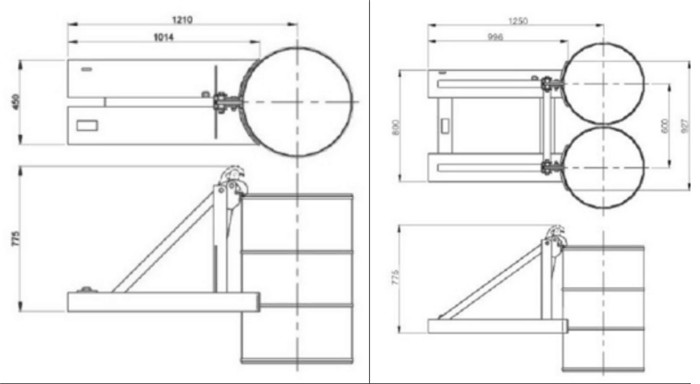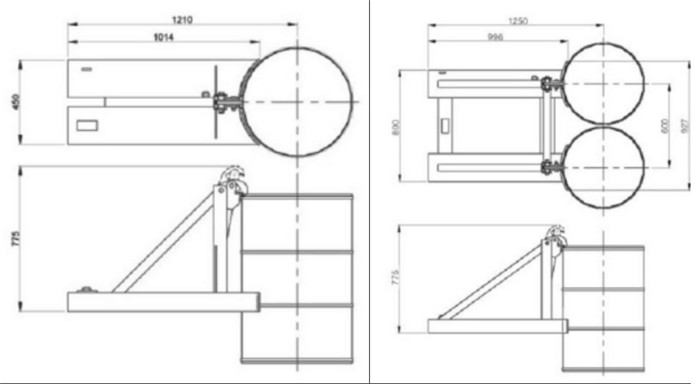 The safest drum lifter available. This attachment ensures 205L steel drums are moved with 100% security. The drum is quickly clamped via eccentric lock. A further safety catch prevents accidental release.
SPECIFICATIONS:
* 1000kg Safe Working Load
* Unit Weight 60kg
* Load Centre 1160mm
* Pocket Size 165 x 65mm
* Pocket Centres 335mm
The fully automatic clamping action enables safe and precise placement of drums. To grip the drum simply push the arms against drum centre and drive forward. The arms will engage around the drum and lock under the rolling hoop when raised. The heavier the load, the tighter the grip. To release lower down and drive backwards.Slip on mechanical drum lifters suitable for both steel and plastic drums. Beak design provides positive holding pressure when travelling. Clamping and release functions are automatic and do not require the operator to leave the
drivers seat. Suitable for use with 205 litre steel, plastic open top and ring lock drums.Available in both single and double drum lifting models.Simple operation:To lift drum simply tilt forklift mast forward, place lower attachment jaw under the drums top lip and raise the attachment. The grab mechanism will automatically engage.To release simply lower the attachment with the mast vertical and place drum on the ground. The grab mechanism willautomatically release.
Quick Details
---
Place of Origin: Fujian, China (Mainland)
Brand Name:HUAMAI
Model Number: BGN1
After-sales Service Provided:No overseas service provided
Product Name: Forklift drum lifter
Type: BGN1
Capacity: 1000kg
Fork Pocket Size(mm): 180*60mm
Fork Distance (mm): 250mm
Load Centre(mm): 1210mm
No. of Drums: 1
---
55 Gallon Drum Clamp