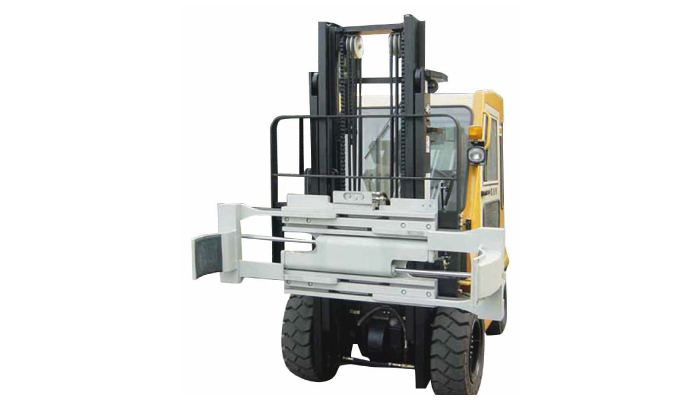 Application
---
Drum clamp is applicable to handle and stack drum cargoes such as iron drum, oil drum and trash can. Widely used in the industries of oil, petrochemical, food, etc.
Features
---
Mainly used for moving and stacking oil drums or other bottled cargo;
Ingenious and simple structural design, with self-locking hinge, safe and reliable;
Compared with the olecranon drum clamps, it greatly reduces the damage to the edge of drum.
Videos
---
Capacity@load center

(kg@mm)

Model
A(mm)
B(mm)
C(mm)
E(mm)
L(mm)
750@1460
DTJ75-1460
1200
470
Customized as per the fork size
1180/1580
750@1800
DTJ75-1800
1200
470
1180/1580
1500@1460
STJ150-1460
1200
470
1180/1580
1500@1800
STJ150-1800
1200
470
1180/1580
750@700
TJCTJ75-700
/
/
/
Remarks
---
The loading capacity is designed according to the standard for 55 gallon metal drum;
There are 1180mm and 1580mm on size L for option.
Quick Details
---
Place of Origin: Xiamen, China (Mainland)
Brand Name: HUAMAI
Model Number: STJ150-1800
Capacity@load center: 1500kg@1800mm
Length A: 1200mm
Width B: 470mm
Length L: 1180/1580mm
Applicable fork size: customized
---
Drum Handling Attachments for Lift Trucks are the safest most dependable available for gripping any size plastic, fiber and steel drums from 1 to 4 at a time. Secure gripping of drums is essential for lifting, transporting and dumping them efficiently, and for minimizing the risk of industrial accidents that could hamper your operation. With six unique series comprising our complete selection of forklift attachments, we make it easy to match the lift truck attachment to your specific application, ensuring a safe and efficient solution. Depending on the model, standard drum handling attachment features can include:
Eagle-Grip Clamping Mechanism
Clamping mechanism that articulates for safe and efficient handling of misaligned drums
Handles any size chimed steel, plastic or fiber drum
Comprehensive 12-month unconditional warranty for your protection
OSHA required safety chain to secure attachment to lift truck
All Eagle-Grip™ Attachments meet OSHA 1910-178 requirements
Built to conform ANSI/ITSDF B56.11.4-2013 Standard
Safety yellow powder coating for maximum durability
Optional features include: non sparking clamps for use in hazardous areas, Quick-Claw cam locks which lock the attachment on the fork blades or scales for weighing drums.
55 Gallon Drum Clamp