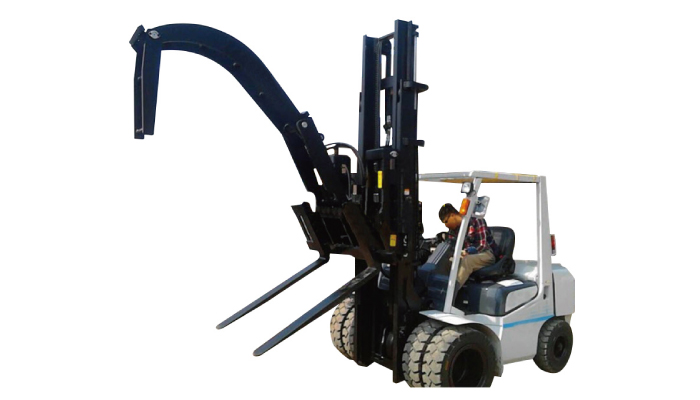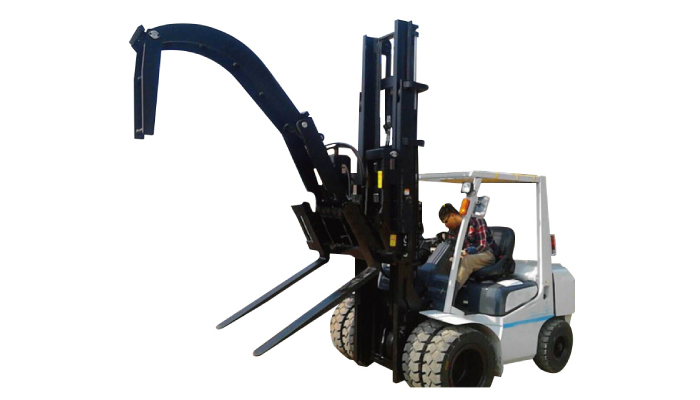 Features
---
1.Hydraulic system: imported original fuel tank check valve; seal products are imported, high-pressure hose with cone seal imports of high-performance hose.
2.Mechanical properties: the external lateral features, plug-fork be used in conjunction to achieve the forward hold folders, adding in each tank check valve, can achieve long packing, ensure that the work or the plastic Pipe burst of safety.
3.An important component of a product application and configuration, Competitive Quality
4.Lubrication system at active joints can ensure durable usage life.
5.Excellent driver visibility.
Specification
---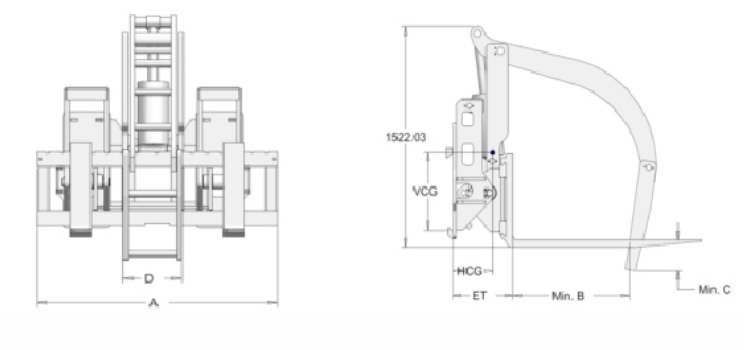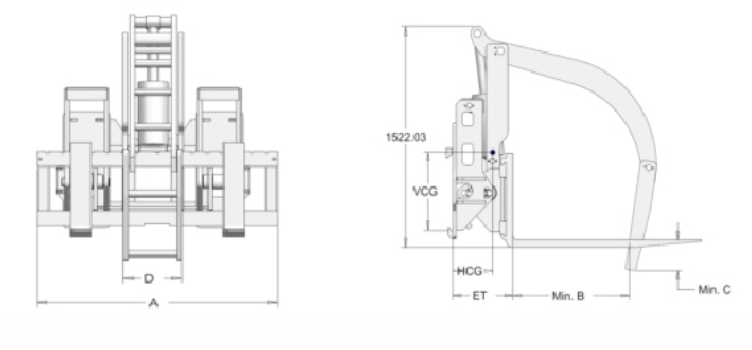 Catalog Order No.
Capacity

(kg)

Mounting Class
Rotator

Fork Mounting

Height of Faceplate

A

(mm)

Tilt Forward /Tilt Backward

(mm)

Raker Opening

C

(mm)

Raker Width

D

(mm)

Weight

(kg)

Effective

Thickness

ET

(mm)

Horiz

ontal Center of Gravity

CGH

(mm)

SPC30D-011B
3000@600
III
III
1300
45°/12°
-180/1600
355
880
385
292
SPC45D-002B
4500@600
III
III
1650
45°/12°
-180/1600
355
1020
401
305
SPC45D-002C
4500@600
IV
III
1650
45°/12°
-180/1600
355
1060
401
315
Note
---
Obtain the actual capacity of the forklift and attachments from the forklift manufacturer,
Two sets additional oil circuit required on forklift
Please contact the sales from HUAMAI
Hydraulic Flow & Pressure
---
| | | | | | |
| --- | --- | --- | --- | --- | --- |
| Model | Min.Hydraulic Flow(L/min) | Rec. Hydraulic Flow(L/min) | Max.Hydraulic Flow(L/min) | Min. Hydraulic Pressure(Bar) | Max. Hydraulic Pressure(Bar) |
| STP30D | 20 | 40 | 60 | 35 | 160 |
| STP40D | 38 | 57 | 91 | 35 | 160 |
Option
---
Lengthen Bar Carriage
Application
---
Steel pipe clamp can efficiently handle and stack hard, cylindrical objects under normal temperature without pallet. Widely used in construction, logistics industries for handling the steel pipe etc, the functions of tipping and withhold can greatly improve the flexibility of the forklift and handling efficiency
Quick Details
---
Place of Origin: Fujian, China (Mainland)
Brand Name: HUAMAI
Model Number: SPC30D-011B
Product Name: Steel pipe clamp for forklift
Type: SPC30D-011B
Mounting Class: III
Opening Range: 900-1500mm
Height of Faceplate A(mm): 1300mm
Tilt Forward /Tilt Backward (mm): 45°/12°
Raker Opening C(mm): -180/1600mm
Raker Width D(mm): 355mm
Weight (kg): 880kg
Effective Thickness ET(mm): 385mm
---