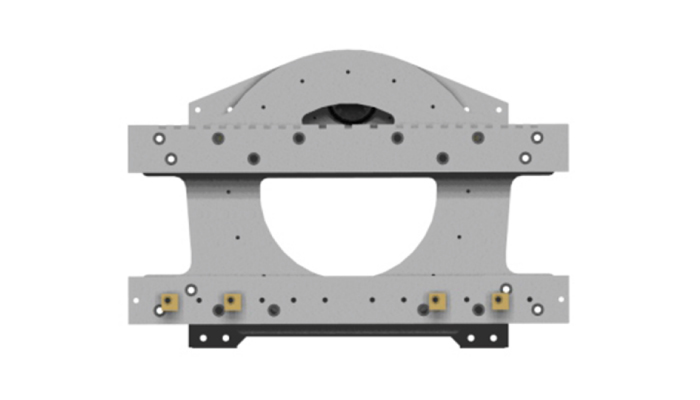 1. Eaton powerful hydraulic motor.
2. Rotational Torque-Good torque ensures smooth and positive rotation of the load.
3. The drive box and motor are positioned behind the baseplate to provide maximum visibility for forklift driver.
4. Heavy duty gearbox and rotating bearing provide superior service life.
5. 1 piece of truck auxiliary valve is necessary. 140bar≤ Working Pressure ≤ 180bar.
6. Fitting Screw M18X1.5-74° (concave); Recommended Hydraulic Pipe internal diameter = 10mm(3/8'').
7. If not requested, Rotators are shipped without forks!
Capacity@Load center
Model
Class
Carriage
Width(B)
(mm)
Fork Max.Spacing(mm)
CGV
(mm)
CGH
(mm)
ET
(mm)
Service
Weight
(kg)
1600@500
RT-25M-A01
2
970
860
312
65
132
181
1600@500
RT-25M-A02
2
1040
930
310
65
132
290
2500@500
RT-25M-A11
2
1040
930
262
86
170
290
2500@500
RT-25M-A12
2
1100
990
262
90
170
297
3500@500
RT-35M-B01
3
1100
990
285
122
248
310
3500@500
RT-35M-B02
3
1200
1090
285
128
248
317
4500@500
RT-50M-B01
3
1200
1090
285
126
248
320
4500@500
RT-50M-B02
3
1380
1260
285
132
248
337
5400@600
RT-70M-C01
4
1200
1090
372
115
275
570
5400@600
RT-70M-C02
4
1535
1420
372
118
275
615
Min. Order: 1 Piece
Production Capacity: 500/Year
Transport Package: Steel Pallet
Payment Terms: L/C, T/T
Material: Steel
Customized: Customized
Standard: Standard
Style: Whole Hole,Half Hole,No Hole
Degree: 360
Specification: Ec, ISO
---
360 Rotator
,
Fork Rotators Attachment