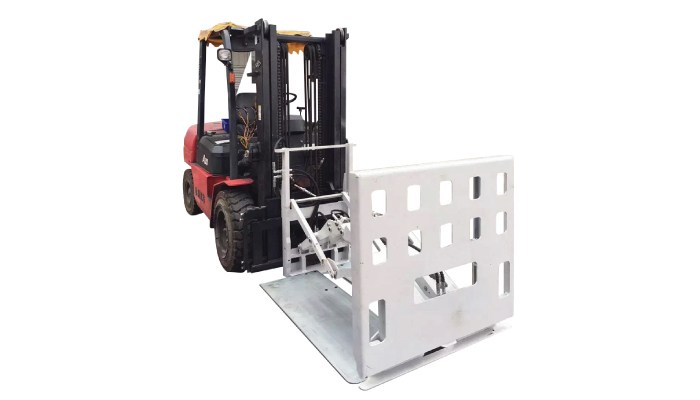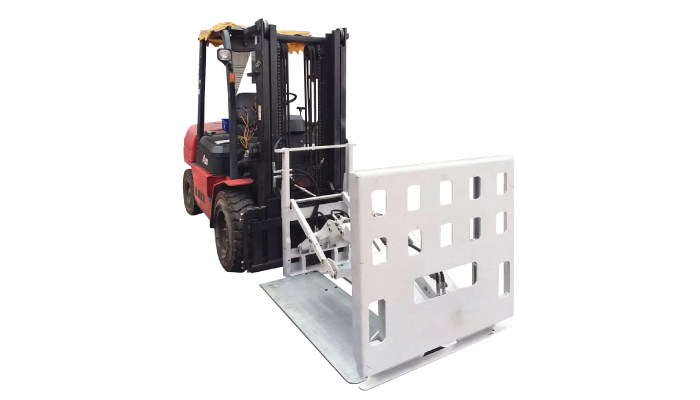 Product Description
---
1. Function And Applications
HUAMAI revolving push-off applied to the carrying, loading, unloading and stacking with pallets of bagged goods (especially for soft bagged goods) such as plastic particles, cement, chemical fertilizer, fodder, rice,etc. Without manual work, the goods can be revolved 180 degree,pushed off and pallets can be taken out, being
safe, efficient and labor saving.
2. Features
·High safety performance is ensured for its two way hydraulic rotation within 360°and self locking at any angle.
·A safety valve is equipped to avoid damage to the goods once the oil pipe is cracked abruptly.
·Reasonable design, compact structure, broad view and easy for maintenance.
·Hydraulic elements are reasonable in design, durable and with fine visibility,
·The oil-free lubrication system applied to each joint ensures better protection of the pins and axles, free of maintenance.
·The casting alloy steel of the folding part reduces the dead weight of no-load distance of a product and prolongs the forklift's service life.
Catalog

Order

No.

Mounting

Class

Open

Range

Revolving

Angle

Side-shift

Space

Push

Off

Distance

Forks

effective

Length

Self

Weight

Effective

Thickness

Horiz

ontal

Center

of

Gravity

ET
CGH
(kg@mm)
(mm)
(mm)
(mm)
(mm)
(kg)
(mm)
(mm)
1500@600
RPS15D-002B
III
900-1500
360
±100
1180
1150
1250
460
413
1500@600
RPS15D-003B
III
900-1500
360
±100
1280
1250
1320
460
422
2000@600
RPS20D-002B
III
900-1500
360
±100
1180
1150
1340
460
413
2000@600
RPS20D-003B
III
900-1500
360
±100
1280
1250
1385
460
426
2500@600
RPS25D-002B
III
900-1500
360
±100
1180
1150
1480
480
402
2500@600
RPS25D-003B
III
900-1500
360
±100
1280
1250
1540
480
415
3. Remarks:
1) Please get the actual comprehensive bearing capacity of forklifts and their attachments from the factory.
2) Matching this attachment requires 4 more oil circuits ,or 2 more oil circuits and 2 more electric circuit for
the forklift.
3) The various types listed above are the common products of HUAMAI, and other types of products can also
be supplied in accordance with different brands of forklifts and special working conditions.
Our Advantages
---
Why choose us as reliable supplier or work as local dealer with us?
1.Experienced technical team, more professional service
HUAMAI is made up of a team of members who have years of experience with European forklift trucks and its attachments.
2. Wide product range, custom design, provide total solution
HUAMAI has grown rapidly into a sizeable company specialized in producing a comprehensive range of hydraulic and mechanical attachments. The major categories of hydraulic attachments include rotating type, sliding arm type, side-shifting/hinged type, special purpose type and others.
3. Priority support, if agency/dealer
If you a local dealer, can achieve HUAMAI agent policy support, including fast delivery time, competitive price and accessories support, ect.
4. Own factory, competitive price
Our factory covers an area of 10,000 square meters, fully equipped with modern manufacturing equipments and facilities. Scale production and no middlemen will save the purchasing cost.
5. Sales record and voice from our customer,which prove our good performance
Quick Details
---
Place of Origin: Fujian, China (Mainland)
Brand Name: HUAMAI
Capacity: 1500-2500kg
Mounting class: III
Opening range: 900-1500mm
Revolving Angle: 360°
Side-shift Space: ±100mm
Push Off Distance: 1180-1280mm
Forks effective Length: 1150-1250mm
Self Weight: 1250-1540kg
Surface treatment: Painted
Warranty: 12mms or 2000 working hrs
---